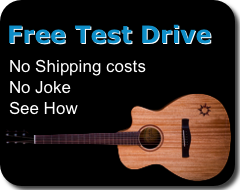 FREE – FREE – FREE
Did we mention it was Free to try one of our handmade acoustic guitars?
Ayers Guitar USA will send you a guitar to test drive for 21 Days.
We will ship you a guitar via FedEx for you to try a guitar in the comfort of your own home for 3 weeks.   You're welcome to buy it or return it at the end of the trial.
Part of saving you money is selleing direct.   Of course, trying a guitar before you buy is important and we totally understand that.   That's what this program is for.
The only condition is that the demo guitar and case must be returned in the same condition it was in before it left.